2017 has been a phenomenal year for books. Here are some of my favorite titles that I read that were published in 2017!
You can see my "Read in 2017" shelf here!
The Girl Before by JP Delaney
Publication Date: January 24, 2017
A psychological thriller that spins one woman's seemingly good fortune, and another woman's mysterious fate, through a kaleidoscope of duplicity, death, and deception—and the hottest title at the 2015 Frankfurt Book Fair.

A damaged young woman gets the unique opportunity to rent a one-of-a-kind house. When she falls in love with the sexy, enigmatic architect who designed it, she has no idea she is following in the footsteps of the girl who came before: the house's former tenant.

The eerie parallels in the two girls' lives lay bare an enthralling story…and make this novel the must-read thriller of the season.
Eleanor Oliphant is Completely Fine by Gail Honeyman
Published: May 9, 2017
"Meet Eleanor Oliphant. She struggles with appropriate social skills and tends to say exactly what she's thinking. Nothing is missing in her carefully time-tabled life of avoiding social interactions, where weekends are punctuated by frozen pizza, vodka, and phone chats with Mummy.

Then everything changes when Eleanor meets Raymond, the bumbling and deeply unhygienic IT guy from her office. When she and Raymond together save Sammy, an elderly gentleman who has fallen on the sidewalk, the three become the kinds of friends who rescue one another from the lives of isolation they have each been living–and it is Raymond's big heart that will ultimately help Eleanor find the way to repair her own profoundly damaged one."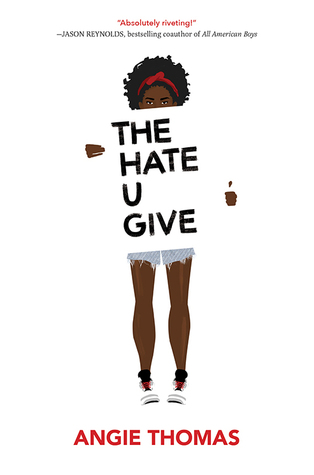 The Hate U Give by Angie Thomas
Published: February 28, 2017
"Sixteen-year-old Starr Carter moves between two worlds: the poor neighborhood where she lives and the fancy suburban prep school she attends. The uneasy balance between these worlds is shattered when Starr witnesses the fatal shooting of her childhood best friend Khalil at the hands of a police officer. Khalil was unarmed.

Soon afterward, his death is a national headline. Some are calling him a thug, maybe even a drug dealer and a gangbanger. Protesters are taking to the streets in Khalil's name. Some cops and the local drug lord try to intimidate Starr and her family. What everyone wants to know is: what really went down that night? And the only person alive who can answer that is Starr.

But what Starr does or does not say could upend her community. It could also endanger her life."
The Barley-Cross Series (Being Brooke & Catching Carly) by Emma Hart
Publication Dates: December 13, 2016 & March 7, 2017
Being Brooke (#1)

My name is Brooke Barker…

And I'm a freaking disaster.

No, seriously. I'm a college drop-out working a dead-end job, my best friend Carly's dog gets more action than I do, and I have more bad dates in my diary than there are movie remakes.

Not to mention I'm completely and utterly in love with Cain Elliott.

The problem? He's in a relationship. With a girl who's so plastic she makes Barbie cry herself to sleep with jealousy.

The second problem? He's my best friend.

My shut-up-and-put-on-Harry-Potter, yes-this-is-your-shirt, help-I-have-no-power, crap-I'm-out-of-tampons, kinda best friend.

And that's all he can be, right?

Right.

Catching Carly (#2)

Life Goal #1: Forget about my best friend's brother. (Because Zeke Elliott is a colossal cockwomble.)

From New York Times bestselling author, Emma Hart, comes another hilariously wild romantic comedy about being the third wheel in your friendship and, um, accidentally having sex with your best friend's brother…
Friend Request by Laura Marshall
Publication Date: September 5, 2017
"Maria Weston wants to be friends. But Maria Weston is dead. Isn't she?

1989. When Louise first notices the new girl who has mysteriously transferred late into their senior year, Maria seems to be everything the girls Louise hangs out with aren't. Authentic. Funny. Brash. Within just a few days, Maria and Louise are on their way to becoming fast friends.

2016. Louise receives a heart-stopping email: Maria Weston wants to be friends on Facebook. Long-buried memories quickly rise to the surface: those first days of their budding friendship; cruel decisions made and dark secrets kept; the night that would change all their lives forever.

Louise has always known that if the truth ever came out, she could stand to lose everything. Her job. Her son. Her freedom. Maria's sudden reappearance threatens it all, and forces Louise to reconnect with everyone she'd severed ties with to escape the past. But as she tries to piece together exactly what happened that night, Louise discovers there's more to the story than she ever knew. To keep her secret, Louise must first uncover the whole truth, before what's known to Maria–or whoever's pretending to be her–is known to all."
One of Us is Lying by Karen M. McManus
Publication Date: May 30, 2017
"The Breakfast Club meets Pretty Little Liars, One of Us Is Lying is the story of what happens when five strangers walk into detention and only four walk out alive. Everyone is a suspect, and everyone has something to hide.
Pay close attention and you might solve this.
On Monday afternoon, five students at Bayview High walk into detention.
Bronwyn, the brain, is Yale-bound and never breaks a rule.
Addy, the beauty, is the picture-perfect homecoming princess.
Nate, the criminal, is already on probation for dealing.
Cooper, the athlete, is the all-star baseball pitcher.
And Simon, the outcast, is the creator of Bayview High's notorious gossip app.
Only, Simon never makes it out of that classroom. Before the end of detention, Simon's dead. And according to investigators, his death wasn't an accident. On Monday, he died. But on Tuesday, he'd planned to post juicy reveals about all four of his high-profile classmates, which makes all four of them suspects in his murder. Or are they the perfect patsies for a killer who's still on the loose?
Everyone has secrets, right? What really matters is how far you would go to protect them."
Before I Ever Met You by Karina Halle
Publication Date: April 25, 2017
"I first met William McAlister when I was just a teenager.

He was handsome, had a beautiful wife and was on the verge of success, having just joined my father as his business partner. Mr. McAlister was full of smooth charm, but back then he was barely a blip on my radar. Just a family friend.

Fast forward ten years: I'm 25 years old and a single mom trying to make things right for her seven-year old son. I've made some mistakes, grappled with my demons and now I'm back in the city of Vancouver, getting a second chance at a better life.

I've started by working for my father's production company as an executive assistant. My first day on the job and I already know I could have a promising career there.
That is until I see Will McAlister for the first time in a decade.

Now recently divorced and as sophisticated as always, Will has gone from being my father's friend and business partner to something so much more.

We're both older, for one thing, and he just oozes this worldly confidence and stark sexuality. Combined with his tall, muscular build and sharp suits, strong jaw and bedroom eyes, Will has turned into one hell of a distraction.

A distraction I'm having a hard time staying away from, considering his office is right across from my desk and I work with him in such close proximity.

But it's just a harmless crush, right?

It's just an innocent fantasy of screwing him on his desk, right?

It can't ever be more because he's my father's best friend, business partner, and my boss.

Right?

Wrong."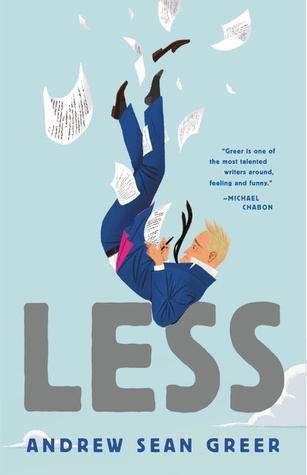 Less by Andrew Sean Greer
Publication Date: July 18, 2017
"Who says you can't run away from your problems?

You are a failed novelist about to turn fifty. A wedding invitation arrives in the mail: your boyfriend of the past nine years is engaged to someone else. You can't say yes–it would be too awkward–and you can't say no–it would look like defeat. On your desk are a series of invitations to half-baked literary events around the world.

QUESTION: How do you arrange to skip town?

ANSWER: You accept them all.

What would possibly go wrong? Arthur Less will almost fall in love in Paris, almost fall to his death in Berlin, barely escape to a Moroccan ski chalet from a Saharan sandstorm, accidentally book himself as the (only) writer-in-residence at a Christian Retreat Center in Southern India, and encounter, on a desert island in the Arabian Sea, the last person on Earth he wants to face. Somewhere in there: he will turn fifty. Through it all, there is his first love. And there is his last.

Because, despite all these mishaps, missteps, misunderstandings and mistakes, LESS is, above all, a love story.

A scintillating satire of the American abroad, a rumination on time and the human heart, a bittersweet romance of chances lost, by an author The New York Times has hailed as "inspired, lyrical," "elegiac," "ingenious," as well as "too sappy by half," LESS shows a writer at the peak of his talents raising the curtain on our shared human comedy."
The Reason You're Alive by Matthew Quick
Publication Date: July 4, 2017
"The New York Times-bestselling author of The Silver Linings Playbook offers a timely novel featuring his most fascinating character yet, a Vietnam vet embarking on a quixotic crusade to track down his nemesis from the war.

After sixty-eight-year-old David Granger crashes his BMW, medical tests reveal a brain tumor that he readily attributes to his wartime Agent Orange exposure. He wakes up from surgery repeating a name no one in his civilian life has ever heard—that of a Native American soldier whom he was once ordered to discipline. David decides to return something precious he long ago stole from the man he now calls Clayton Fire Bear. It might be the only way to find closure in a world increasingly at odds with the one he served to protect. It might also help him finally recover from his wife's untimely demise.

As David confronts his past to salvage his present, a poignant portrait emerges: that of an opinionated and goodhearted American patriot fighting like hell to stay true to his red, white, and blue heart, even as the country he loves rapidly changes in ways he doesn't always like or understand. Hanging in the balance are Granger's distant art-dealing son, Hank; his adoring seven-year-old granddaughter, Ella; and his best friend, Sue, a Vietnamese-American who respects David's fearless sincerity.

Through the controversial, wrenching, and wildly honest David Granger, Matthew Quick offers a no-nonsense but ultimately hopeful view of America's polarized psyche. By turns irascible and hilarious, insightful and inconvenient, David is a complex, wounded, honorable, and loving man. The Reason You're Aliveexamines how the secrets and debts we carry from our past define us; it also challenges us to look beyond our own prejudices and search for the good in us all."